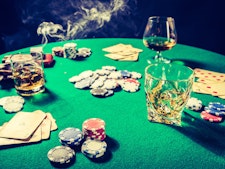 Free Casino Entry
Add this casino entry to your Bournemouth stag package and you and the boys will be winning before you've even stepped through the door. A flutter on the tables is almost as essential to your weekend as ribbing the stag. Gambling is one of those things that'll have to stop once he gets married, so make sure your main man gets a chance to experience the thrill of risking it all on red before it's too late. Fun and games are the lifeblood of a seaside town like Bournemouth, so what better place to hit the tables. Just outside the centre, this is a top-class gaming establishment that welcomes everyone, whether you're an old pro or a total rookie.
Try your luck with classic games like three-card poker, American roulette and blackjack. If you fancy hanging back, there's row upon row of modern slot machines with jackpots of up to £4000! So you won't miss out. Hopefully someone's going to have a winning streak, so your stag kitty should be looking a little healthier by the end of the night. Between games, grab a bite to eat and chill out in front of the screens. This place is modern with classy interiors, so it's a cool place to spend your time as well as your pounds.
So there's two ways of playing this, either plan to end up here after drinks and a bite to eat in town, or make a whole night of it. You've probably got a big group to look after, so all we'll say is, get organised. To avoid disappointment at the door, let us organise your entry in advance at a time you want, so you can rest assured that there'll be nothing to stand between you and the bar. Did we mention the bar? It's open very, very late and will keep you in supply of all the beer and premium spirits you could wish for.